The 2020 Election: What Issues Matter Most to Moravian College Students?
We are just days away from the 2020 United States presidential election and Americans nationwide are preparing to vote to see who will take or remain in office for the next four years. With a great deal of issues on the minds of the American people, between protests, a global pandemic, and much more, the uncertainty about the election's outcome can be a lot to take in.
To see what students are saying about the election and about the presidential nominees, we took to campus and asked Moravian College students which topics mattered most to them.

We talked to a variety of students of many different majors and backgrounds. We asked two questions: What issues are most important to you going into the 2020 presidential election? And how confident you are in your chosen candidate's ability to tackle these issues as President of the United States (without explicitly stating who it is)?
In response to the former question, Elaine Ramirez ('22, music education) said, "I'd like a president who cares about climate change, global health, and one who will stop the systemic racism in this country." It's clear that many students share Ramirez's concerns, as most of our responses pertained to concerns about racism, climate change, and the health of the country, including COVID-19. Senior Sarah Penna listed "Universal healthcare, climate change, accessible education, ending systemic racism, and healing from the COVID-19 tragedy" as topics that mattered most to her. 
Understandably, students were concerned about how we will handle the COVID-19 pandemic as the United States was moving past 210,000 deaths. Kristen Cassidy, class of '21, said, "I think race relations and the virus are the most pressing for me. I also think that showing responsible, strong leadership in regards to COVID-19 and eradicating it is what's most likely to get us back to normal faster." There is clearly a desire for strong leadership in the wake of the pandemic among students. Jesse Leahey, class of '23, echoed the previous students' thoughts about climate change and racial quality while also expressing concern about a new wave of coronavirus cases in the winter.
Julian Calv, class of '21, stated, "A rise in action for environmental protection and social equity" is at the forefront of his mind. Chloe Mondok, who is also a senior, agreed. "Dealing with racial injustice and bringing more equality into the education system and economy," she said. She also wondered about how each candidate would work towards tackling climate change.
Racial equality became a clearer issue to students the more people we surveyed. For instance, Matthew Meyers, class of '22, explained, "Equality is a big issue that concerns me the most, specifically race equality but also including gender equality. There is clearly one candidate that stands against everything that the people have worked for. There is still no justice for those that deserve it. I would like to see those people that perform bad deeds get punished by the law."
With all of these concerns about human equality and protests across the country resulting in no meaningful change thus far, it can feel like the voices of the people are being drowned out. Jillian Ferrara, class of '22, expressed her desire for these protests to be recognized by leaders. "Most definitely issues of social and racial justice," she said. "Specifically, addressing the widespread protests and civil unrest going on instead of sending in more police and the national guard to shut it all down. A future president needs to address these issues and conditions that create these protests such as police brutality and systemic racism."
Kaylyn Joseph, class of '24, opened up about this issue on a personal level. "As a Black woman, the issue that is most important this election are minorities," she said."I am Black and that cannot change, not that I'd want it to. I'm 18, and I've heard so many dead, so many wronged, so many abused by the oppressors. 'Stand by.' I don't ever think I'll forget that line. White supremacy and the race war coming are what worries me the most." It's certainly an important time to be listening to friends and family who belong to minority groups.
Concerns didn't stop at just racial equality, either. Students also expressed their concerns about LGBTQ+ and women's rights. Camaryn Wheeler, class of '21, said, "As a woman, I'm most concerned with abortion laws and reproduction rights, but I'm also worried about LGBTQ+ rights and racial equality being on the line." Kaitlin Kridlo, class of '22, agreed. "LGBTQ+ rights, women's reproductive rights, environmental protections, and protections for Black lives are among the issues that I really care about that I feel are especially at the forefront right now."
A math and physics major who requested anonymity expressed their concern over whether the issues surrounding the BLM movement and LGBTQ+ descrimination would even be solved by a president. This student also pushed the importance of listening to experts in a time such as now. 
Meanwhile, Quincy Wellen, class of '21, expressed his concern about misinformation in the media: "I am looking for someone to tackle uncertainty and misinformation in the media as well as someone who can unify society." In a time where the term "fake news" is often tossed around to define factual data that doesn't not align with your political beliefs, it is certainly a valid concern.
With the stakes of this upcoming election being so high, voters have different views on not only the outcome of the election, but on how likely the candidates are to live up to their promises once in office. The responses we received were mixed.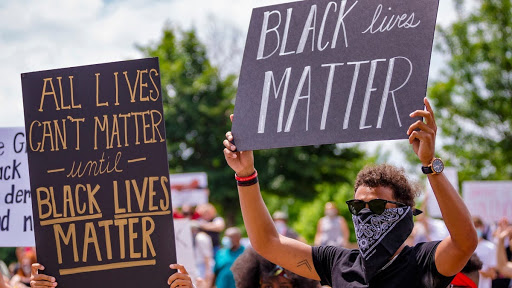 Over half of the student voters we interviewed said that after looking into their candidate's plans for resolving the current issues within our nation they felt confident that their candidates would perform well in office. "His stance on issues has evolved over time, but it's clear now that his government work has been in support of these minorities," Wheeler said. "I'm very confident that he will do what's right for those communities."
Taking a similar stance, some students were confident in their chosen candidates but expressed concern over whether or not they would be able to achieve everything they promise over the course of the next four years. Sophomore student Jesse Leahey said, "[He is] not extremely confident that all of these issues will get tackled in just the next four years, but [he has] faith that we will take steps to tackling these issues if my candidate gets elected."
Over the past year leading up to election season, voting for "the lesser of two evils" has been a common phrase thrown around both in person and on social media platforms. This statement not only exposes the voter's uncertainty in who they are choosing to vote for but shows uncertainty in how efficient whoever claims the position will actually be. Students like Quincy Wellen from the class of '21 said that he was, "half-confident," a similar reaction to junior Kaitlin Kridlo who said, "I am honestly not 100% behind the candidate that I will be voting for. He was not my first choice." Considering the current state of the nation, it's easy to be unsure of either candidate's ability to perform to their full potential, an opinion surely a common one held not only by Moravian students but by many American voters as well.
Others, however, are not so confident that much progress will be made. With the gravity of the issues being discussed in the media, during Town Hall events, and on the debate stages, some students feel the issues are too big for the candidates to handle and that more radical steps need to be taken to resolve major issues such as climate change, healthcare, and systematic racism. 
The recent murders of George Floyd, Breonna Taylor, Eric Garner, and many other Black citizens have sparked a civil rights uprising in this country. Protesters gathered in cities nationwide to protest police brutality and systematic racism, but still their voices are left unheard by the government. Understandably, Moravian students had strong opinions surrounding how likely the current presidential candidates will take the necessary measures to resolve such a serious and ongoing issue in our country. "I am not confident that either candidate are able or even willing to face issues facing minorities as the President of The United States," said freshman Kaylyn Joseph. "I believe that this election was designed to be detrimental to people of color and other minorities regardless of who wins." As a Black woman, Joseph is not alone in questioning how actively the candidates will work to help the Black communities in the United States.  
With the stakes of this year's election being as high as they are, it's important to take a stand for what you believe. Students at Moravian College have shown not only that they are willing to express their own political opinions, but to actively educate themselves about each candidate and their positions on various issues. Whether you're voting by mail or at your local polling station this November 3rd, be sure you're voting for who you feel is the best candidate not only for you, but for the nation as a whole.
Leave a Comment