Life Science Research Students Undefeated by COVID-19 Challenges
The fall semester is nearly over at Moravian College. While most students are studying for exams and turning in papers, research students in the life sciences are hard at work in the lab. 
Unlike past semesters, however, they must navigate the unusual challenges presented by the COVID-19 pandemic. 
Undergraduate student research is an invaluable opportunity for students to prepare for graduate school work and gain real experience in research. 
This is especially important for students in the life sciences, most of whom will go on to spend their careers in research, medicine, or academia. The Honors Program at Moravian College is just one of the opportunities offered by the College that gives seniors the chance to conduct research under the guidance of a faculty member, over a year-long period. 
During previous semesters, the laboratory research process has proceeded uninterrupted, which is a key factor because of the delicate nature of science experiments. Unfortunately, due to the COVID-19 pandemic, which occurred during the spring semester of 2020, many life science students conducting research had to say goodbye to the projects they had been tirelessly cultivating, pack their bags and go home.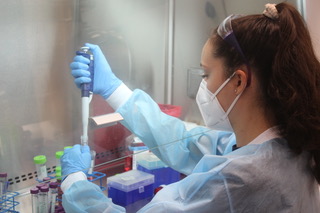 "Everybody was shocked and really upset. But [in our lab] we were able to recover what we could and continue with it," said Victoria Vargas, '21, an Honors research student and the president of the Undergraduate Research Club (UR Club).  "I know a lot of other labs were hit really hard. They just had to trash everything. It's heartbreaking."
The challenges for student research this semester don't stop at making up for lost work. 
When asked what the greatest challenge was this fall, Vargas explained that it's getting enough time in the lab. "Because of all the precautions we have to take and limiting the number of research students that are allowed in the lab, time is of the essence," she said. "Everybody wants to be there all the time but we can't because of [social distancing]."
Despite these difficulties, Moravian's life science research students and college faculty are doing their best to keep student research going. 
Extra health safety precautions have been put in place to ensure the continued health of Moravian's research students, such as implementing a COVID-19 questionnaire for students to answer before they enter the laboratory and mandatory use of masks in the labs, even when the student is working alone. 
"It doesn't matter if you are by yourself, you have to wear a mask in these spaces," said Dr. Anastasia Thèvenin, an assistant professor of Biochemistry at Moravian College who currently works with nearly 20 life science research students. "We really consider [the laboratories] fully safe. We know that whoever has been in them has never taken off their mask."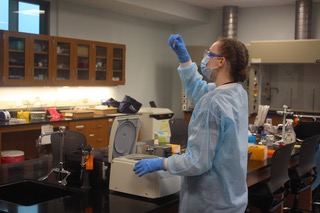 This semester Vargas is researching oncogenic proteins and their reactions with connexin 43 proteins. She hopes to find a way to enhance the relationship between these two proteins in order to treat tumors caused by cancer.
Vargas says the most challenging part of the semester is getting lab time. This is a big change from pre-COVID semesters. Since research was interrupted last semester, many students are taking the opportunity to do it this semester, making lab time for Vargas less readily available. 
With social distancing precautions, Vargas also has to work quickly to get the results she needs to complete her work. "You just have to get in there and get whatever you're doing working, get the results, and get out," she said. 
Another frustration is when other people don't follow the rules. Student research this semester largely depends on everyone staying healthy enough to get in the lab, and while the research students understand the gravity and importance of mask wearing, not everyone feels as strongly. "Outside our lab, people will just decide that they don't have to wear a mask any more," Vargas said.  "We will ask them, 'Can you please put your mask on?' and we will stare them down until they do it." 
While Moravian College has made keeping student research afloat a priority, much credit is due to Moravian's faculty for being able to get student research on its feet after the events of the Spring 2020 semester.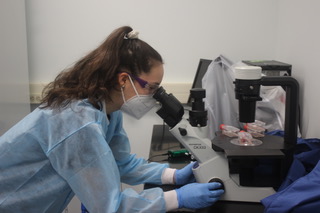 According to Dr. Thevenin, the science department has been working since the summer to come up with ingenuitive ways to make researching safe and to keep it going no matter what. That includes not only developing extra health and safety precautions, but also coming up with a plan of action should the College have to close due to a COVID-19 outbreak on campus.  
Vargas states that she was nervous at the beginning of the semester, but now, with strict safety systems in place, feels confident that they can keep student research going no matter what. 
Despite social distancing, life science research students have found ways to support each other and the campus community. Overall, Vargas says she is staying positive and that student research will continue to succeed. "Things aren't [going] as we planned, but we really are trying our best to make it. That's just part of research. Nothing goes as exactly planned, so you just keep going."
Leave a Comment