Club Spotlight: Disability and Neurodiversity Advocacy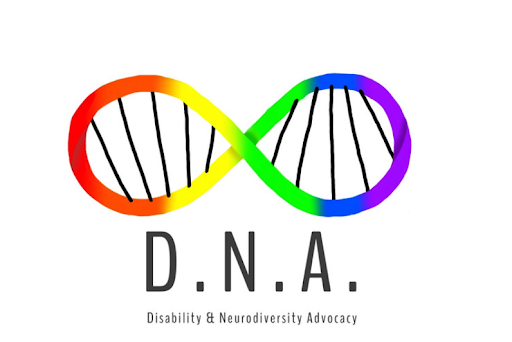 What is your club about? 
D.N.A. provides an open space for discussion and education on the topics of disability and neurodiversity. We aim to destigmatize disability and neurodiversity, because they are not these world-crashing conditions, rather they are an identity that we can be proud of having. 
When was your club established?
D.N.A. is a very new club that was approved last semester, but this is our first semester of meetings (beyond e-board). Our first club meeting ever will be this Friday (1/28) at 4:00pm in the UBC room.
Who are your current leaders (advisors, president, vice president, etc.)?
President: Shayla Borger
Vice President: Anna Spadavecchia
Treasurer/Secretary: Bard Bardelli
Social Media Coordinator: Ryan Anderson
Advisor: Dr. Laurie Kahn
When does your club meet?
The plan is to meet Fridays from 4:00pm to 5:00pm. As of right now, we intend to meet in the UBC room in the HUB, but this is subject to change.
What do you hope will be the most popular activity that the campus will know you for??
The hope is to be known for fostering open discussions regarding disability/neurodiversity experiences. Campus-specific, we intend to cover the issue of accessibility and accommodations for students, faculty, and staff, then implementing the appropriate changes. 
What are the biggest challenges that your club faces?
This early in the game, I am not sure what will be our biggest challenge. That being said, this club is among the first of its kind so establishing ourselves to a wider audience is the biggest challenge at the moment. 
If you could pair up with another club for an event or project, who would it be?
There are a lot of possibilities, with clubs under DEI as the foremost. Inclusivity and intersectionality must include disability, otherwise it is not inclusive nor intersectional. 
What is the latest project that your club is excited about?
First, we will focus on just getting off the ground. We have a lot of projects in mind, but ultimately it is up to the members of D.N.A., whom we have yet to formally meet.
If you had an unlimited budget, what dream project would your club put it towards?
Ideally, the dream would be to reconstruct both campuses entirely to make Moravian much more accessible. More realistically though, we would put the money toward little ways to make accommodations, such as implementing Otter.ai in all classes, to name one possibility among many. 
Who is this club for and why would someone want to join? 
This club is not solely for those with diagnosed disabilities or neurodiversities. This club is for EVERYONE. Anyone with a professional diagnosis, anyone who is self-diagnosed, anyone who is unsure; are all welcome. But also this club is for those who are not disabled–hence why we are "advocates," instead of specifically "self-advocates." 
It is important to note also how we define disability: we define it in very broad terms that go beyond what we as a society normally think of as a disability. Temporary injuries, migraines, chronic illnesses, and so on are all completely valid forms of disability, at least in the eyes of D.N.A. 
People should want to join to learn about themselves now or their future selves, to learn about friends and family, to learn about others more generally. This club is an opportunity for everyone to gain understanding of disability and lead people to acceptance and embracement of this identity. 
View Comments(1)