5 Sweet and Simple Valentine's Day Recipes
Another year, another opportunity for plans to be reconsidered thanks to the seemingly never-ending COVID-19 restrictions. 
But while the novel virus is still very present in our lives, there are still smart and safe ways to celebrate our favorite holidays.
If you have doubts about going out with your Significant Other, Galentine, family, etc., consider spending the day making their  favorite sweet treats! 
There are so many ways to take existing recipes and add a unique twist to cater to whatever holiday or occasion they were made for, and that's why baking is always such a reliable option. 
Don't forget the joy that comes with sharing the wealth with others. And let's be honest, who doesn't love a homemade treat as a gift? It's a win-win situation for everyone – they're receiving delicious, made-with-love sweets, and it doesn't cost you much to make!
Below are six delicious dorm-friendly Valentine's Day recipes that all offer room for creativity: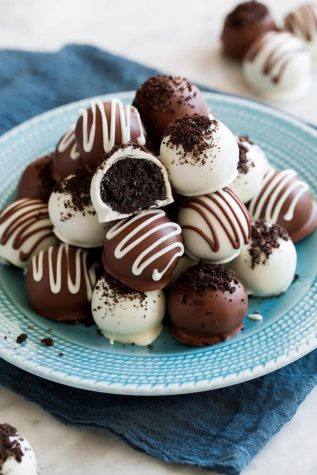 You can never go wrong with these homemade Oreo truffles. The richness of the filling accented with the smooth chocolate coating makes for fireworks in every bite. These certainly won't last long in your fridge, or at least they won't in mine!
What I typically do when I make these for Valentine's Day is offer 2-3 different coatings/toppings in case there is someone in my house who does not like traditional chocolate-on-chocolate. The three that I include are white chocolate-covered with red and pink drizzle, milk chocolate-covered with white chocolate drizzle, and milk chocolate-covered with crushed peanuts.
You can even take these a step further and make cake pops, as I know that red velvet is a popular flavor during this time!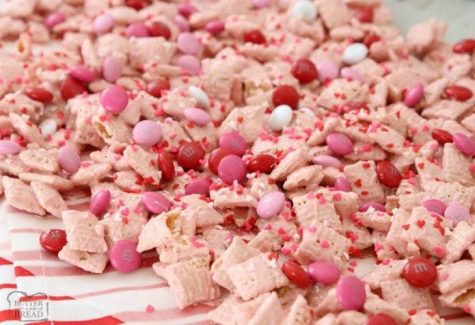 I've never made this, but I thought it would be fun to include here since it's so fun and easy! This recipe adds Valentine's M&M's and/or sprinkles, but you can choose any candy you'd like! I would use both of those toppings as well as mini pretzels – either white chocolate-covered or plain.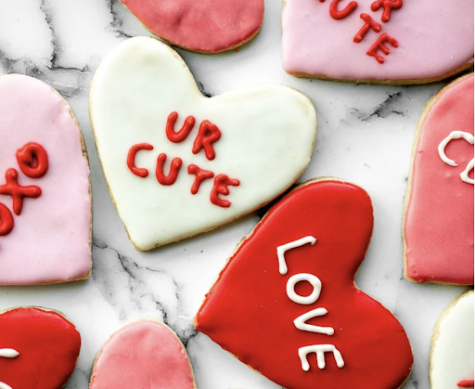 Cut-Out Sugar Cookies with Royal Icing
Sugar cookies, aside from a charcuterie board, are my favorite Valentine's Day treat to make. You can make them any size, any shape, and add as many toppings as you want! This year, I am doing the exact idea presented in this recipe: conversation heart cookies. They are so much fun both to make and to eat and are always a hit as gifts!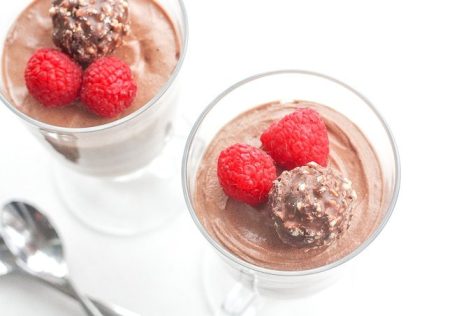 I mean come on, who doesn't love Nutella? Nevermind Nutella mixed with other sweet ingredients to make a whole new dessert! These rich decadent mousse cups are loaded with the famous hazelnut spread and topped with Ferrero Rocher candies and fresh raspberries. Instead of the Ferrero Rochers, I shave part of a Hershey's dark chocolate bar on top and use strawberries and blueberries in addition to raspberries!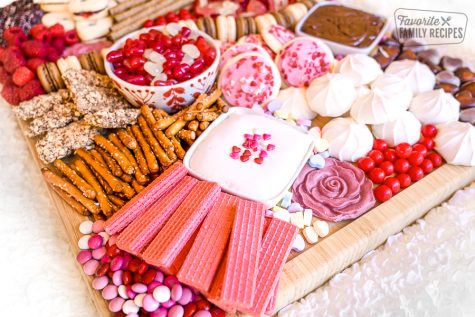 Charcuterie boards are my go-to contribution for any holiday spread. For Valentine's Day, I tend to create an assortment of sweets. But if you're looking to do a savory board or one with a mix of both, DO IT! This link includes brilliant ingredient ideas to make your board pop this Valentine's Day – including things like macaroons, chocolate spread, pretzels, M&M's, fruits, and so much more!
I would include most of this on a board, but I would definitely add more fruit than cookies and chocolates. About half of the board would be an assortment of strawberries, raspberries, blackberries, blueberries, grapes, oranges, and apple slices with accompanying dips such as chocolate fondue, peanut butter, and sweet cream cheese. I also always scatter fresh in-season flower petals around my board for an extra pop of color! 
I hope these recipes inspire you to run out to your nearest grocery store and get baking; I promise you won't regret it! As mentioned before, all of these are so easy to make and leave so much room for creativity, and you can always turn them into gifts for your significant other, family,  Galentine's, etc.! 
Have a lovely (and safe) Valentine's Day, Hounds!
Leave a Comment