Harrison Dillard: From The Projects to Police Chief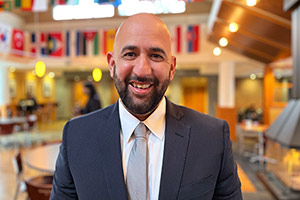 When he was a young boy, Harrison Dillard knew exactly what he wanted to do with his life and it wasn't what you would expect. Most kids want to be a professional athlete, an astronaut, or even the president of the United States. But after witnessing the things he did at such a young age, Dillard wanted to take a different path. His father had substance abuse issues and lost his life in a shooting when Dillard was only nine years old. For the majority of his childhood, it was just Dillard and his mother. They lived in the projects and he even ended up in foster care. 
Now after 25 years in law enforcement, 51-year old Harrison Dillard is Moravian University's new Chief of Police. He is the retired captain at Morris County prosecutor's office in NJ, works with the National Association for the Advancement of Colored People, and used to be a Title IX investigator for Moravian. What sets Dillard apart is how he got to where he is today, which separates him from anyone else who could have been in his position as chief of police.
Harrison Dillard is polite, prepared, and professional. He presents himself with a firm handshake followed by an introduction. He wears a dark suit and speaks like he has been interviewed many times. He sounded and acted like a cop. Dillard answered questions as if he had trained for interrogation at a young age. But this was not the case. Dillard had a rough childhood, and he is a first generation in law enforcement.
Harrison Dillard was born in Perth Amboy, NJ, and grew up in many towns in Middlesex County. He moved around a lot in his childhood until his mother joined the Army. Dillard believes that the Army saved his family, and this was the reason he followed in his mother's footsteps after graduating from Rutgers University. He served for five years in the Army in order to repay the debt he thought he owed the Army for getting his family out of the bad environment they were in. Despite all this, Dillard knew from a young age that the Army was not his dream. He knew that wanted to work on the police force as an undercover narcotics detective. 
"Unfortunately, I lost my father when I was nine," Dillard said. "My father kind of went down a path which led to substance abuse disorder, and I've investigated this throughout my whole career in law enforcement where substance abuse leads to criminal activities. It's a supported habit. And so that ended up leading my father down a path of a high risk lifestyle, and unfortunately, he died a violent death. He was shot when I was nine years old. So I kind of already knew why my father died and what his lifestyle was, and I knew that I didn't want to follow in that track. I want to go in the opposite direction. At a young age, I kind of knew I wanted to be in a position where I can serve the community, be a positive role model, and be a positive contributor to society."
Dillard said he is trying to increase diversity in law enforcement by adding more women and people of color to the force. Initially, he was not interested in looking into the role of chief of police when it was brought up to him by a colleague. It was the Moravian police's mission statement that made him have a change of heart and begin his journey as the chief of police. The mission statement "promotes a safe and well-ordered environment for students, faculty and other members of the community." 
"You know, my job was to put the worst of the worst behind bars," Dillard said, reflecting on his career. "Obviously, that's a different atmosphere and that was the allure. I didn't want to do that anymore. It needs to be done, just not by me. I wanted to come here because I wanted to be a resource for students and make sure that they kind of stay the course and I love the fact that students are on the right path. They're in college for a reason. They're on the right path, but I can help them stay on that path. That was the lure for me to come to this position."
Dillard still refers to himself as "the new" chief of police given his recent change in status just three months ago. Despite his being relatively new to the position, Dillard has adjusted to his position and became a leader on campus. He wants to set a better tone for law enforcement in students' eyes. Because he is very involved in civil rights after the deaths of George Floyd and Breonna Taylor, Dillard is able to see the areas where law enforcement needs to improve, such as lack of diversity. 
Since his arrival in his position, he has been hiring new officers and is trying to add some diversity to the Moravian campus police as well as making the Moravian Police more present on campus so they are a familiar face in times of trouble, not someone who you have never seen around campus before. 
"I'm not sure what type of leadership that he had in the law enforcement fields," says Officer Thomas Siteman of the Moravian Police. "But I find a lot of his good leadership qualities probably came from the military. And you see a lot of the leadership qualities that he espouses, in people that have served in the military. I see it in the guys that I work with, myself included, are able to look at any subject we're dealing with, with a sense of clarity, because of the skills that we were taught when we served in the military."
Officer Thomas Siteman may believe that Dillard's leadership skills come from his stint in the army, but despite where they came from it is clear that Dillard is bringing some changes to Moravian. His mission so far has been to bring a better and more positive perspective of not just the Moravian police, but the police in general and what they do to help and protect students, as well as making the police more inclusive, which he has done by recently hiring a black officer to add to the force. 
Given his childhood, Dillard's life could have gone in a completely different path, said Dillard, but instead he chose to take the opposite direction and became a first generation in law enforcement and uses his position to make positive changes that need to be made. He values his position on campus and doesn't look at it as a position of power, but as a position to make a positive impact.

View Comments(1)