Senior Reflection: Kaitlyn Furst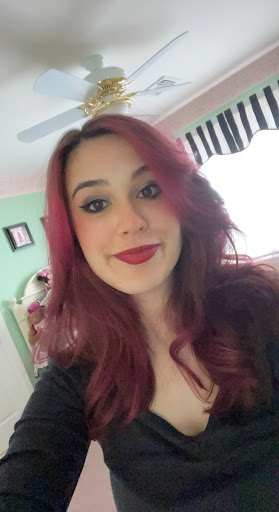 I will never forget the excitement I felt moving into Main Hall on a hot day in August of 2018. I was looking forward to all the new opportunities I would have at this new school; however, I was still confused about what I wanted to do after college. I entered as a double major in Music and English and still had an overwhelming feeling of doubt if that was truly what I was interested in pursuing for the next four years. 
Music quickly gave me the sense of comfort that I was looking for considering I was away from home for the first time in my life. Being a part of the marching band, big band, and choir all during my first semester made me feel relaxed as it was the exact same activities I participated in during high school. I was comfortable, but I still felt like I was missing out on something. 
The second half of my freshman year was the worst, and I would be lying if I didn't say I contemplated transferring several times. I wasn't happy continuing to major in English, but I was scared to explore other areas. Between feeling like a complete outsider, struggling with anxiety, and reevaluating all my academic and extracurricular decisions thus far, I felt alone. 
While I was on the verge of completely giving up with Moravian, I came across an advertisement looking for writers for The Comenian. I always had an interest in writing but never had the time in high school to pursue it due to my hectic music schedule. I decided to give the paper a try, thinking that maybe being a part of something different would make me feel better. 
From the first meeting, I knew I made the best decision. Everyone was so welcoming and for the first time, I felt that I wasn't completely invisible. While reporting on different campus events was completely out of my comfort zone, I grew to love the feeling of accomplishment after writing an article and enjoy the writing process. Especially during the COVID-19 lockdowns, being able to still participate in our weekly Zoom meetings and refreshes despite the circumstances made me feel connected to Moravian in new ways, and I am forever grateful for that opportunity.
Since the second semester of my freshman year, I have felt more comfortable pushing myself to explore different opportunities at Moravian and not pigeonhole myself into anything. I joined a sorority (Zeta Tau Alpha), changed my one major to Sociology, joined Phi Alpha Delta (the Pre-Law Fraternity), worked on campus, and completed several internships to explore what I wanted to do after graduation. I continued to excel academically making Dean's List every semester, joining several honor societies, and being awarded the Presser Scholar Undergraduate Award in my junior year. Being able to feel confident enough in myself and my abilities to put myself into unfamiliar situations is one of the most rewarding experiences I have had on my college journey.
The technical skills I learned from writing and editing for The Comenian over the past few years also gave me the confidence to complete a year-long honors thesis concentrating on the contributions of jazz and cabaret music to the cultural life of the concentration camp, Terezín. While I was not able to be as active as I was with The Comenian this year as I was in previous years, I was constantly using the same writing, editing, and research skills that the newspaper taught me throughout the years.
Besides gaining confidence, writing for The Comenian taught me a lot about myself as a person. I learned that my voice matters, and I can use my voice in order to be an advocate for myself and others. After my article on gluten-free food on south campus was published, I had several people tell me how important it was to bring awareness to food allergies on campus and my article did that. That article was one of my favorite articles that I have written as I felt I used my voice to bring awareness to an issue I was passionate about on campus. 
Both Moravian University and The Comenian have been crucial in helping me step out of my comfort zone and learn more about myself in the process. I am forever grateful for all the opportunities I have had, and I am confident that I will continue to use all the skills I learned here on my new journey in the fall pursuing a Juris Doctorate at the Villanova University Charles Widger School of Law.
I am so thankful that I have been able to find my voice and develop a sense of self-confidence, and I am forever grateful for The Comenian being a part of that journey.
Leave a Comment