Club Spotlight: Food Recovery Network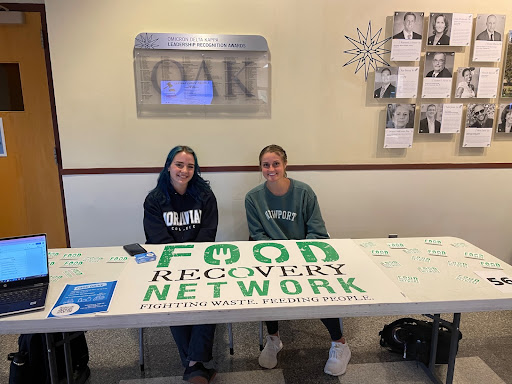 What is your club about?
The Food Recovery Network Chapter's main goal is to reduce food waste and tackle food insecurity on campus. We have activities such as Weigh the Waste and documentary screenings of public health documentaries.
When was your club established?
2022.
Who are your current leaders (advisors, president, vice president, etc.)?
President: Mahum Naveed
Vice president: Onalee Long
Treasurer: Kara Smith
Secretary: Lily Mingora
Advisor: Dr. Tanu Altomare 
When does your club meet?
Once a month.
What is the most popular activity that the campus knows you for?
Weigh the Waste: it is an interactive way to engage students in understanding just how much plate waste an individual can produce at the end of a meal. We go to the main dining hall on campus and collect what food and beverage waste is left of students' meals, and we weigh the amount at the end of the dining period to raise awareness of our wasteful eating habits.
What are the biggest challenges that your club faces? 
As a newer club, we are still trying to gain more members.
If you could pair up with another club for an event or project, who would it be?
We have done a lot of collaborations with the Public Health Club, Eco Club, and Dining Services. We would love to continue to work with them regarding sustainability events.
What is the latest project that your club is excited about? 
We have another Weigh the Waste event coming up on February 15!
If you had an unlimited budget, what dream project would your club put it towards?
If we had an unlimited budget, we would host food drives and help people gain better access to food to tackle food insecurity.
How does your club intend to impact the campus or community positively?
We hope to educate our community on the importance of sustainability and adopting sustainable practices to take care of our environment and ourselves. Our main goal is to raise awareness of how much food waste is being produced and what we can do to decrease that amount, as well as raise awareness about food insecurity on campus and in the Bethlehem area.
Leave a Comment