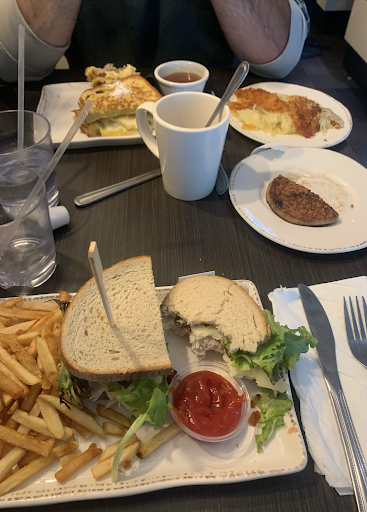 Billy's Downtown Diner has been a staple in the Bethlehem community for decades, and for good reason. I have been there twice and thoroughly enjoyed my experience both times! 
On my first visit, I ordered a Smores Cappuccino. It came with a chocolate drizzle topped with marshmallow fluff, whipped cream, and Graham crackers. For my meal, I ordered avocado toast, which was topped with an egg and came with greens. It came on a sourdough loaf and was delicious. 
We had great service. We were seated immediately, right next to a window, where my boyfriend and I watched pedestrians and enjoyed the sunshine. Our server was prompt, and our food came out very quickly. It took less than five minutes for my cappuccino to arrive, and it was hot and tasted great. As someone with a huge sweet tooth, I found it to be the highlight of my meal!

I went to Billy's for a second time on a recent Sunday morning. There was about a 20-minute wait simply because every table in the restaurant was completely full. As someone who works in a restaurant, I quickly took notice of how calm and collected the staff were despite how busy the restaurant was. 
Once a party left, it took less than five minutes for tables to be reset and sat, a great feat for the bussers and hostesses. Once we settled at our table, our server, clearly busy, told us she would be over in just a moment, although she returned shortly afterward and properly greeted us. 
This time, I ordered a dulce cinnamon iced coffee, which was made by my server and delivered promptly after I ordered it. Let me tell you; it was one of the best iced coffees I have ever had. It was topped with a thick whipped cream and sprinkled with cinnamon. It was made perfectly, with the right amount of milk-to-coffee ratio and a strong taste of dulce. 
It was closer to lunchtime, so I ordered a turkey sandwich on rye bread. It came with a side of fries as well as a side of ketchup. I forgot to ask for a side condiment to add to my sandwich, so it was a bit dry, but otherwise, the sandwich was very good! The turkey tasted extremely fresh and the fries were small and crispy, my favorite way to eat them. 
My boyfriend ordered a bacon egg and cheese on French toast but subbed the bacon for sausage. The French toast was dusted with powdered sugar and came with a side of home fries and syrup. Our server was very happy to accommodate his change in protein and again, our order was delivered promptly. 
We both thoroughly enjoyed our food, and I loved the creativity of my boyfriend's dish. I have to admit that he ordered a better meal this time around and now I know for the future!

I highly recommend Billy's Diner. It offers good food at a good price in a cozy environment. 

Billy's Downtown Diner is located at 10 E Broad St. in Bethlehem, PA and their phone number is 610-867-0105.