Moravian Moves Online in Wake of Coronavirus
The palpable feeling of fear, confusion, and the unknown is sinking in around Moravian College, the Lehigh Valley, and the rest of the world. Coronavirus is spreading. 
COVID-19, commonly called coronavirus, is a virus that causes respiratory problems in those who are infected. The virus is named for the unique shape of the pathogen that causes the illness, its appearance looking like it is wearing a crown– or a "corona" in Latin. The virus is a relative of the famous SARS and MERS viruses that created worry in the past few decades. 
The virus causes a variety of upper respiratory, flu-like symptoms, including the following:
Fever

Cough

Shortness of breath
Symptoms can appear between 2 to 14 days after exposure to the illness, and can range from very mild to quite severe. The virus is most dangerous to those with compromised immune systems, the elderly, and very young, as well as those who already have breathing and respiratory problems. The virus can lead to more serious health problems like bronchitis or pneumonia, which is what most of those infected are dying from. 
There is no vaccine for this virus at the moment, nor is there a specific antiviral cure. Instead, treatment consists mainly of symptom management. 
The virus appears to be spread rather easily via person-to-person contact, contaminated surfaces, and droplets (saliva from coughing, mucus from sneezing, etc.). It is likely that the virus can also spread even when a person who has been infected is not symptomatic, which is another reason why the virus can spread so easily.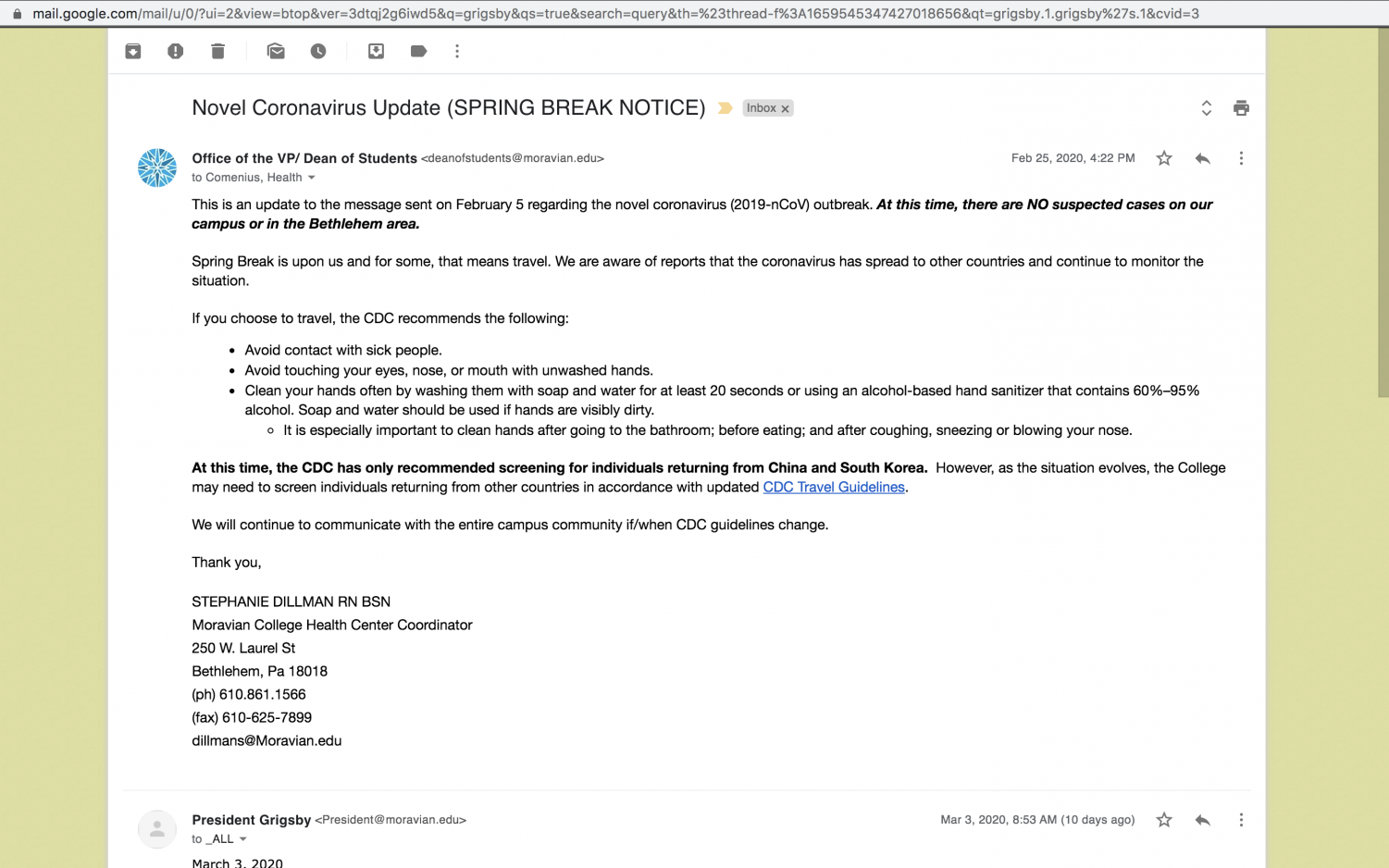 The virus began its outbreak in China in December of last year, the first case being reported in Wuhan, China. It continued to spread across Wuhan and then the rest of China, which began to cause worry. As the number of infected individuals began to rise and a few deaths were reported, the Atlanta-based Centers for Disease Control and Prevention (CDC) and the World Health Organization (WHO), which is headquartered in Geneva, Switzerland, began to look further into the possibility that it could spread globally. 
The virus continued to spread across the world, with cases appearing in South Korea, Japan, Italy, Greece, and other countries. In January of this year, the first case was reported in the United States on the west coast. From there, it continued to spread as well to the point that almost every European country and American state has at least one case of the virus. 
For those of us in the Lehigh Valley and who were not traveling much, there was not necessarily much cause for concern, but many were thinking about what may happen if the virus got to our home. Plans for schools, offices, and hospitals were beginning, and this is no different for Moravian.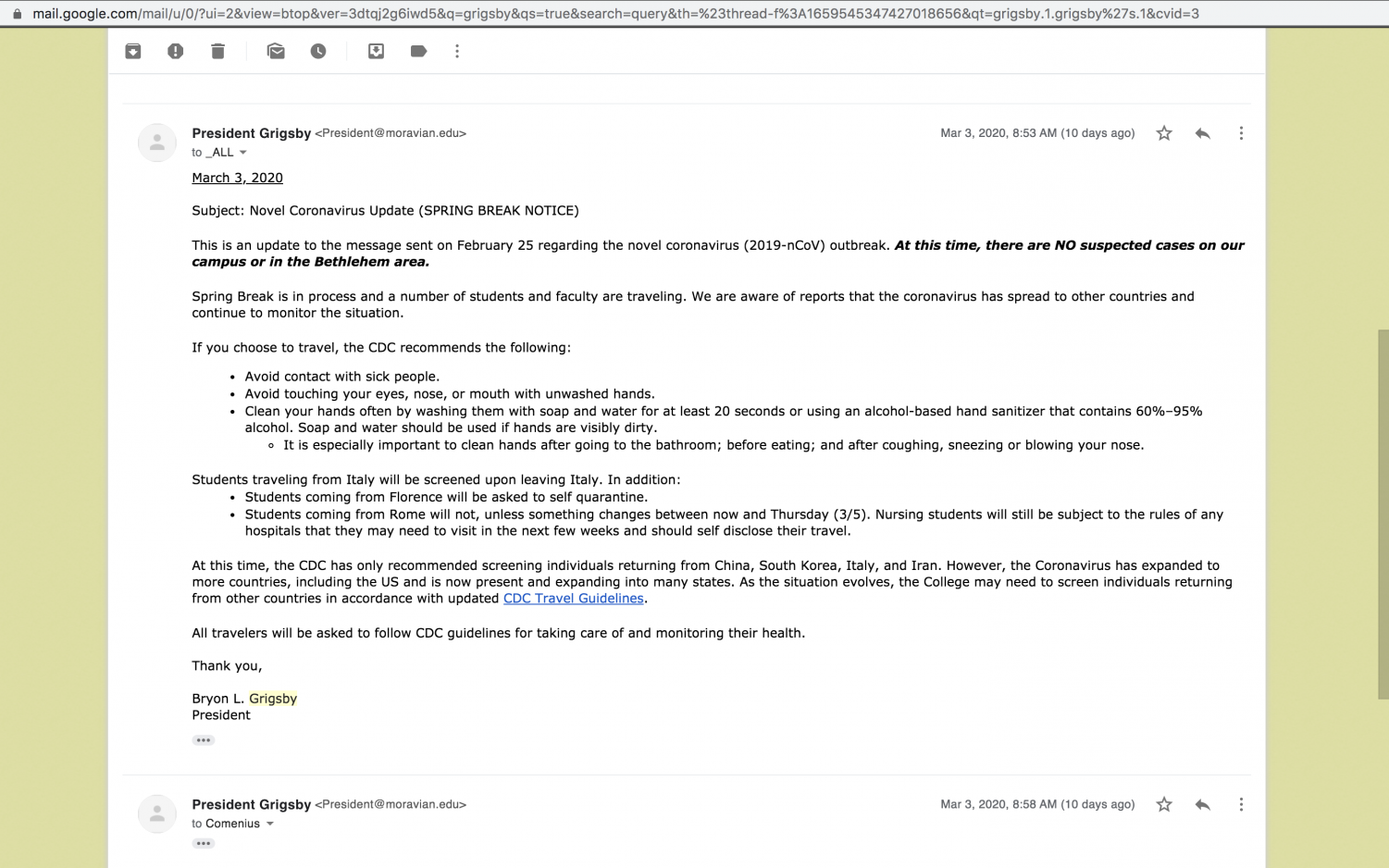 With spring break and travel on the minds of students and staff, including a study abroad trip planned to Italy, the school issued a statement on March 3 explaining that students were encouraged to practice good hygiene and to self-quarantine if they were returning from Rome, South Korea, or China. 
The following day, the school then issued another statement cancelling all study abroad trips until the end of May. At the end of the semester, the school will reevaluate the situation and decide if students are allowed to return to their placements abroad. Students abroad were often brought home again as a precautionary measure. 
While the campus was buzzing with the news that the study abroad trips were cancelled, which seemed at the time to be massive news, the biggest changes occurred this past week.
During Tuesday afternoon, faculty received an email requesting that all professors teach one online practice class to ensure that students were prepared to hold online classes if the school had to close. The faculty were told it was simply a preventative step to make sure that all faculty and students were familiar with the meeting software, Zoom, even offering to hold workshops to teach staff if need be.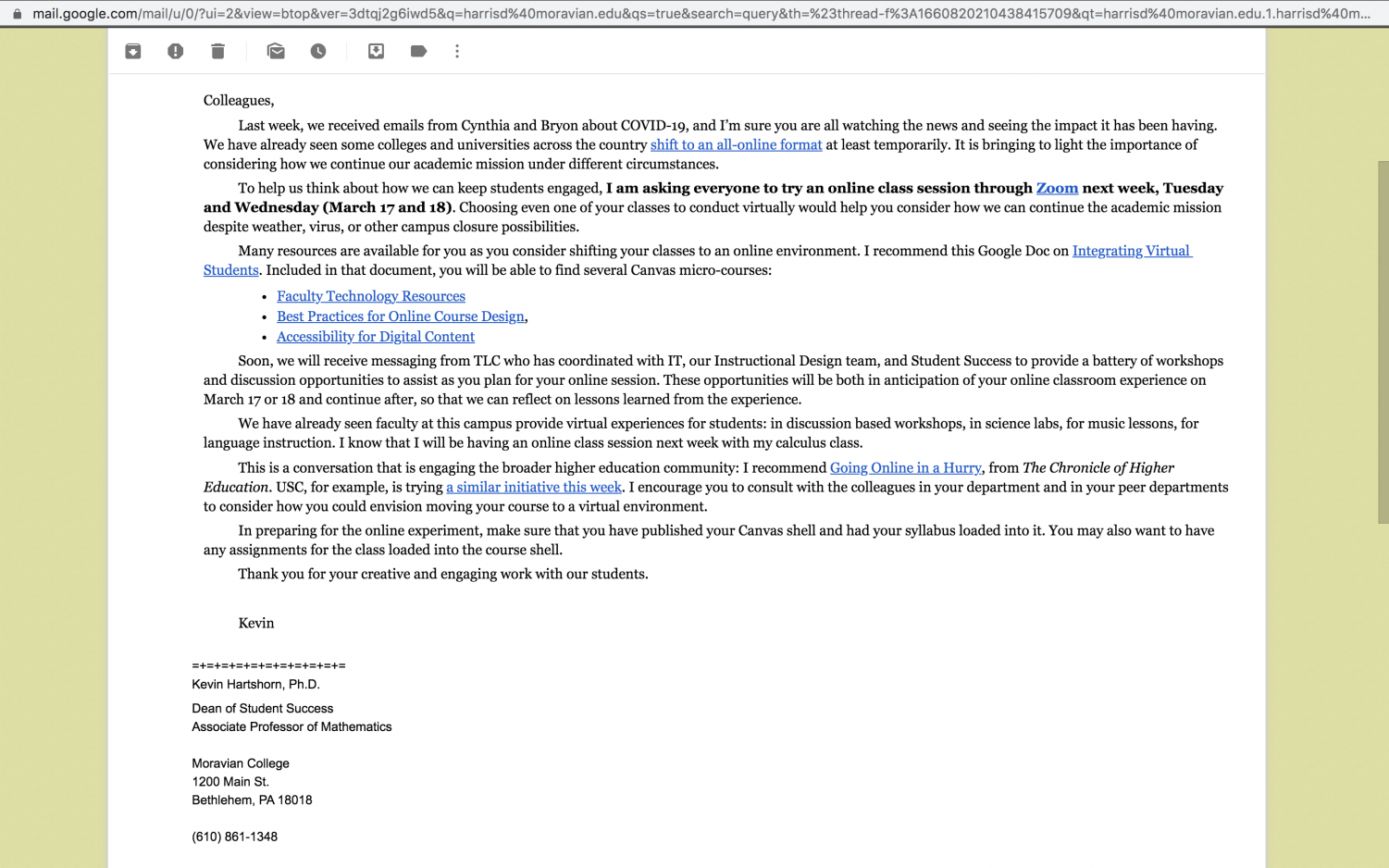 A few hours later on Tuesday night, Moravian had to face big decisions after the closure of Muhlenberg College, which suspended all on-campus classes, opting to hold them online. The biggest precautionary action was Muhlenberg's decision to close all residence halls as well. All students were to finish the week's classes, then move out of their residence halls by Saturday for the rest of the semester. 
Many people questioned the decision, chiefly because the school had not had any possible or confirmed cases. "We're taking these steps now to be proactive, as opposed to waiting and then having to evacuate students in case there's a coronavirus outbreak on campus," Vice President of Communications Brian Speer told the Morning Call. 
This decision put a lot of eyes on Moravian, not just from students. Parents and other community members were all looking at the school, awaiting their decision. Students talked about the subject endlessly on campus, buzzing about the upcoming party weekend of St. Patrick's Day and the possibility of going online for classes. 
On Wednesday afternoon, likely in response to all of the questions and concerns from the community, President Bryon Grigsby sent another email to all of the Moravian community assuring that the school was operating under normal conditions. He mentioned both the online practice policy and the new confirmed cases in Pennsylvania. He discouraged gatherings and parties on the weekend and requested that students keep practicing good hygiene and social distancing.
Things continued to get more restrictive that night. Students were not allowed to serve themselves any food in the Star, personal water bottles were not allowed to be refilled, and most club and social gatherings were cancelled or discouraged. A visitor restriction policy came out later that night, banning all non-Moravian students in the residence halls and dorms across campus. While visitors were still allowed in public places on campus, the hope was to stop the spread of germs in students' private quarters.
Late Wednesday night into early Thursday morning, the coronavirus officially hit the Lehigh Valley. One case was confirmed, but the location and name of the individual was not released. Some public schools were closing for short periods of time, and many colleges were extending their spring breaks to keep students off campus. Moravian continued to try to stem any unnecessary spread of germs by eliminating personal water bottles in the Star completely and cancelling large-scale events. 
Then came the decision at 4:00 p.m. on Thursday: Starting March 16, the school would teach all classes online for two weeks to help prevent the spread of illness. Students were encouraged to return home but not required to. The dining halls and many other amenities would remain open; faculty were encouraged to work on-site.

Many students had intended to celebrate St. Patrick's Day this weekend, but President Grigsby forbade registered parties and gatherings from taking place.

The effects of this transition are still yet to be seen. Students with internships, practicals, and student teaching placements are still working within their departments to make adjustments. Student athletic events are paused until April 6. Work study students are still evaluating. This decision affects every single member of the community, and we are all working to understand just how to handle this unprecedented situation. 
At this point, the school is only online for two weeks. Administration will reevaluate the situation closer to the end of the online period. Many students are wondering if we will remain online all semester, or if we will be turned out of our dorms and houses. At this point, much remains unknown. 
—
For more information on COVID-19, visit
For updates on the situation at Moravian, check for updates on their website. 
If you are at all ill, follow the CDC's advice and:
Stay home except to get medical care

Separate yourself from other people and animals in your home

Call ahead before visiting your doctor

Wear a face mask if you are sick

Cover your coughs and sneezes

Clean your hands often

Avoid sharing personal household items

Clean all "high-touch" surfaces everyday

Monitor your symptoms
To help prevent illness:
Wash your hands often with soap and water for at least 20 seconds

Use a hand sanitizer that contains at least 60% alcohol

Avoid touching your eyes, nose, and mouth

Avoid close contact with people who are sick

Put distance between yourself and other people if COVID-19 is spreading in your community
Moravian College Health Center Information:
250 W. Laurel Street
(Hillside 5 H)
Bethlehem, PA 18018
(610) 861-1567 
(610) 625-7899 (Fax)
Walk-In Hours
Monday – Friday
9:00 am – 11:30 am
Afternoon visits by appointment