Music Majors Adjust in Wake of COVID-19
When classes moved online on March 16, many professors were able to continue their daily lectures remotely without much fuss. Utilizing Zoom or asynchronous learning became the new norm.
Professors — and students — in a few departments, however, have had a much tougher time. Those in the music department are among them.
Being a music major myself, I was extremely worried when President Grigsby announced that all classes would take place online. 
Besides taking music-focused classes and completing the Learning-in-Common (LinC) requirements, music majors also have to take lessons and practicums, go to ensemble rehearsals and concerts for concert credit, and perform in class and concerts. The majority of these requirements are practically impossible to do online.
For example, student recitals at Moravian are done for academic credit, as it is a requirement for all Bachelor of Music students.  
Recitals for four such students were canceled this semester, two of which were recitals of current seniors. Kellen Pisani, a senior jazz performance major, was one of the two seniors who was impacted by the cancellation.
"Obviously I was disappointed that my recital wasn't going to happen as planned," said Pisani. "But I think it's important to remember that this whole thing is nobody's fault. Keeping the community healthy is the most important thing at the moment."  
In spite of the challenges, the music department has been extremely proactive in making the tough decisions to keep the faculty and students safe and on track during the online transition.
As of March 18, when all classes and lessons were to be taught online, the department canceled performance classes and all concerts for the rest of the semester. The performing requirement was waived, concert credit was waived, and jury exams (which is a final for the performance unit) were also canceled.  
In a brief poll that The Comenian conducted for this article, most music majors expressed feelings of disappointment that concerts were inevitably canceled but agreed it was a necessary step due to the coronavirus.
"It's sad, but there's absolutely nothing we can do about it," one student stated. "It's what's best for everyone's safety and the well-being of the greater community."
"I am very upset," another student said. "Everyone worked so hard in the beginning of the semester and I'm upset to see the hard work kind of go to waste. However, I know there was no other choice. I do feel bad for the senior recitals that were canceled. They are even in a worse position and I feel horrible." 
However, the music department is reviewing student recitals on a case-by-case basis. Recitals scheduled for juniors this semester will be pushed to the fall. Pisani was offered a different solution since he will be going onto graduate school in the fall.
"My adviser [Dr. Neil Wetzel] and I have decided to do a live stream of my recital on a makeup date, most likely in April," said Pisani. "Since we are not able to have a large crowd, we will have a small audience of ten members of family and close friends. Anyone else who would want to see the performance will be able to livestream it. Again, while this is not ideal, it makes sure that the work I have put in for my performance will not go to waste."
Still, music majors worry about the impact of not being able to have classes and lessons in person and of not being able to have the usual performance opportunities. 
Of those polled, half did not like the way their music classes were held on Zoom, citing reasons such as there not being an effective way to learn without proper access to a piano, not allowing for the interactive nature of music classes, the lag time and microphone not being conducive for playing musical examples, not being able to play or sing together and collaborate, and the difficulty of hearing melodic or rhythmic examples for musicianship classes.
However, 7% said they liked their music classes on Zoom, finding it to be a "good alternative to being able to meet in person" and the "quickest and most effective way to further our education given the circumstances," as one respondent put it. The other 43% did not have an opinion.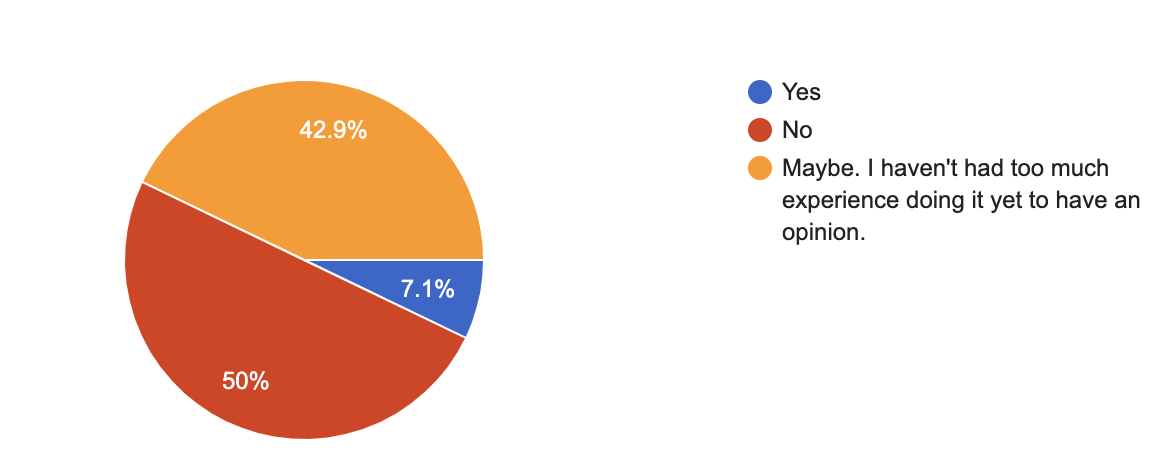 In regards to lessons, at the time the poll was conducted, most students did not have experience with online learning. Still, more than a third did not like how lessons worked on Zoom, given the poor sound quality on Zoom and the inability of teachers to play along or demonstrate concepts well.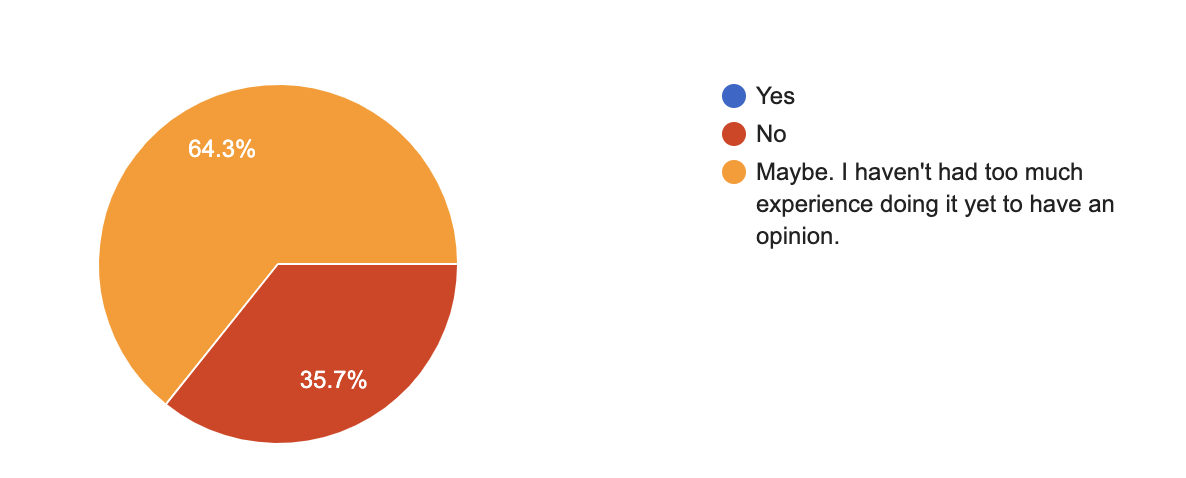 Overall, most music majors wonder what next semester will bring. They worry that they won't be prepared for fall recitals and that getting used to going to in-person classes again will be tough. 
Some music education majors were also concerned that they wouldn't be prepared for student teaching next year or for their junior year of college, which is the most crucial one of the music education major.
While we greatly appreciate the efforts by the music department to make sure we have as much normalcy as possible, it is hard to not think about how these changes will impact us next semester and beyond. 
Personally, I am glad the changes to the requirements were made earlier rather than later. Being someone who likes to plan ahead, I am happy I don't need to worry about this semester so that I can focus more on adjusting to my classes and lessons being online.
These changes to the requirements and being online this semester will take time to adjust to, but it is crucial that we try our best to adjust to the best of our ability and focus on the positives so that we can get the most out of our education during this uncertain time.