Andrea Gibson's Heart-Opening Poetry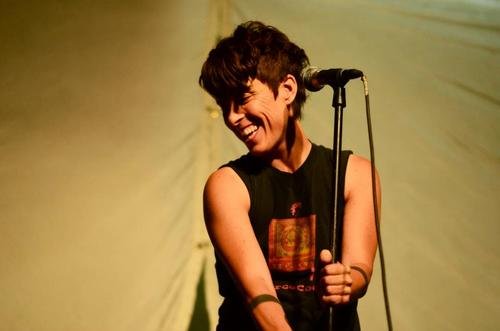 On Saturday, April 17th, I left the spoken word poetry performance of Andrea Gibson with heavy goosebumps and teary eyes.
Andrea Gibson, an award-winning American poet and activist, is known for their work discussing LGBTQIA+ experiences, gender norms, feminism, and other social issues.
They have published books such as "Pole Dancing to Gospel Hymns", "Take Me with You", and "Lord of the Butterflies." For over 18 years, they have delivered impactful spoken word performances across the country.
In this event for the Moravian community, Gibson took the Zoom group through selections from "Lord of the Butterflies," adding personal anecdotes in between performances that created a deeply relaxing, intimate atmosphere.
Gibson opened with "Angel of the Get-through," a poem they wrote as a love letter for their friend going through a rough patch. Gibson's voice was full of love and passion the whole time, strong yet trembling slightly as they spoke the line, "You paid my rent for 3 years." From this first poem, I was already moved by the sheer genuine emotion that enlivened their imagery-rich words.
Gibson described the next poem as a "genderful pep-talk to my younger self," where they discussed their relationship with gender in second-person perspective. This snippet stuck out to me: "You're happiest on the road – the in-between." Their words spoke to the power of rejecting the definitions that box people's identities into a binary.
Other poems tackled mournful subjects.
"America Reloading" highlighted the utter horror of gun violence in schools, and Gibson's pain shone through as they spoke on the senseless tragedy of children's deaths, the NRA's incompetence, and the trauma of survivors.
They highlighted the struggles of LGBTQIA+ youth in other selections, speaking with winding alliteration about how these youth face higher risks of suicide and mental illness by being oppressed for who they are. The line "Can you just let me live?" gushed with emotion. It was a call to action to show active love and support to these communities.
Gibson also expressed the importance of rejoicing in the happy moments.
One poem talked about their experience falling in love with a woman for the first time, and my heart soared hearing of the moment where they first celebrated for their relationship. Another poem talked of times when they felt goosebumps from the pure beauty of various moments in life. I loved the line, "Have you ever felt that? A split second where nothing in the world is dying?"
Mental health was a common thread throughout Gibson's selections.
Their line to "hyperventilate like it's 1999" expresses humor in its push to embrace anxiety, depression, and other mental illnesses not as failings of courage but a sign of humanity. I was moved to tears by the simple yet powerful lines of "You are not alone" and "Live, live, live."
"Ode to the Public Panic Attack" showed Gibson's experience with panic attacks, especially with those that occur on stage during their performances. Accompanying the poem was a bit of advice on how to handle such attacks – "try to make yourself as scared as possible."
Though I personally have never experienced a panic attack, I often experience obsessive, spiraling anxiety where the more I try to calm down, the more anxious I get. This advice illuminated an alternative way to handle such anxiety: giving myself permission to feel fear instead of pressure to calm down.
Their final poem titled "Boomerang Valentine" owes its inspiration to artist and activist Sonya Renee Taylor, who as a Black woman tackles ideas of race, class, ableism, sexuality, and self-love in her award-winning work. Gibson's line "I have never known violence like that I've brought upon myself" encourages consideration of the ways we can be our own worst enemy.
The event felt like having a conversation with a friend.
Gibson's poems were so genuine and sincere, their words flowing and punching with rhythm and power right to the heart. The issues they discussed – support for the LGBTQIA+ community, gun control, and accepting mental illness – are some of the most important matters we face today, and they discussed them in a nuanced, powerful, and vulnerable way.
After every poem's performance, the 10 participants in the meeting reacted with icons of clapping hands and hearts. It was a virtual space of open-mindedness and connection.
"Andrea Gibson's work has been a source of hope, challenge and self-compassion for me since I was an undergraduate student," says Laura Oesterle, Moravian's Assistant Chaplain and organizer of the event, "and I jumped at the opportunity to bring them to Moravian. In these challenging times, I thought we could all use a space wherein we might name some of the struggles we've faced this past year and give us all permission to feel deeply both the challenge and the hope."
Though I have attempted it somewhat here, it is impossible to convey the powerful effect of Gibson's performances without seeing them yourself. Their performance of "The Madness Vase" at the 20th Anniversary Iowa Women's Music Festival can be viewed here.
Gibson describes their live audiences as those with "squishy hearts" – the type of people who, when Gibson experiences a panic attack on stage, are completely understanding and nonjudgmental. Now more than ever, we could all stand to be a little squishier-hearted.
Leave a Comment