Editor's Letter (4/1)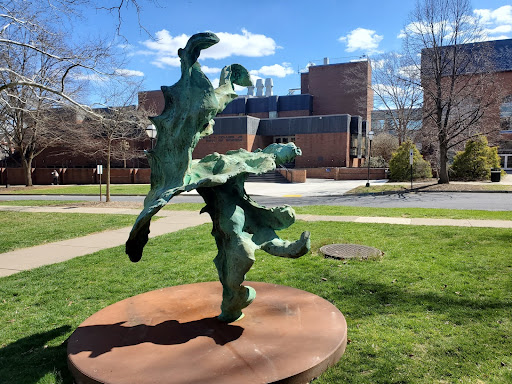 Dear readers, 
Welcome to the April Fool's Day edition of The Comenian! 
We're a few short weeks away from the end of the semester; hang in there, Hounds! 
For this edition of The Comenian, we have the following for your reading pleasure:
In the spirit of April Fool's Day, fierce rivals the Kubb Team and Tabletop Club have engaged in a war of words, explaining why their club is superior. Read the Kubb Team's article, written by reporter Dominic Trabosci here, and read the Tabletop Club's article, written by reporter Bard Bardelli here. Whose side are you on?
On the subject of Kubb, check out this video of Lil Greyhound's live "Kubb Rap" performance as part of the Kubb Festival of Creativity (KFC). 
Reporter John Watson reviews 2017's "The Emoji Movie," and copy editor AJ Minnich reviews "The Adam Project," each with their own April Fool's Day twist on their usual reviews. 
Then check out Anna Litofsky's latest, April Fool's-themed "Behind the Mask" comic. 
Moving away from April Fool's, we have more serious stories.
AJ Minnich shares part one of his discussion of the recent anti-LGBTQ+ legislation throughout the U.S., focusing on the topic of sexuality in light of the "Don't Say Gay" bill. 
Reporter Abagail Brisson covers Upsilon Alpha Sigma's Ukraine drive during March. 
Reporter Fatimah Bouri recaps DEI's Friday Forum: One Love, on the topic of dating violence. 
Managing editor Anna Litofsky recaps the 2022 Writers' Conference roundtable Q&A, as well as the keynote speech from renowned author Porochista Khakpour.
Reporter Sabrina Moody shares a new edition of her "Meanwhile, in Ireland," this time talking about Ostara, the Spring Equinox. 
Guest reporter Alex Cabanela writes about the educational inequality in the United States, and proposals for how Moravian can help minority students. 
For our Club Spotlight, learn about the recently-formed American Sign Language (ASL) Club.
Learn about how Ornitherapy, the "devoted practice using birds as guiding light to a happier and healthier life," according to environmental educator Holly Merkel, in an article by guest reporter Stephen Schneider. 
AJ gives his thoughts on Marvel's new R-rated films, and how the company can incorporate Daredevil and the Defenders into its future projects. 
As part of Moravian's Metal Wellness Day, Mar. 29, there were a bunch of therapy dogs in the Sally for students and staff to meet. Check out the adorable dogs in this slideshow from reporter Abby Brisson.
We have two more editions of The Comenian for this school year – April 15 and April 29. Mark your calendars. We hope to see you then!
Your editor-in-chief,
Nick
Leave a Comment