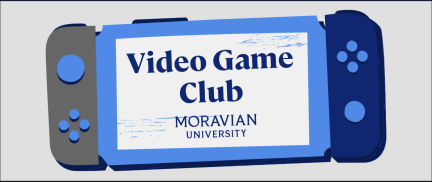 Our goal is to provide a fun and safe environment for students to play, discuss, and watch a wide assortment of video games. Our meetings are kept casual, as not to alienate any one member.
When was your club established?
It was established in 2017.
Who are your current leaders (advisors, president, vice president, etc.)?
Our president is Joel Hendricks, our vice president is Aj Minnich, our treasurer is Ebony Saccento, and our secretary is Hayley Carroll. We are excited to welcome Kris Beutler as our new advisor! We can't wait to see where the club goes with this new executive board!
When does your club meet?
We meet every Saturday in The Sally Breidegam Miksiewicz Center from 6-10 p.m. in rooms 113, 117, and 121.
What is the most popular activity that the campus knows you for?
We play video games as a collective, yet we also collaborate with other organizations. We have helped other clubs to host trivia, and we also co-host a Halloween party with the esports organization. We're looking forward to working with even more clubs in the coming year, so be on the lookout for upcoming events!
What are the biggest challenges that your club faces?
Currently, our biggest challenge is building the club back up from previously disorganized leadership and recruiting new members to join.
If you could pair up with another club for an event or project, who would it be?
We'd love to collaborate with The Manuscript. The artistic potential of games and the creativity of The Manuscript members could be deeply discussed on a personal and emotional level, which is something that would be both fun and engaging for all parties!
What is the latest project that your club is excited about?
We are very excited to be teaming up with MAC in November for video game night where we will have a plethora of games for students to enjoy. We will also be teaming up with the Moravian Cyberhounds to host a Halloween party with food, drinks, prizes, and more!
If you had an unlimited budget, what dream project would your club put it towards?
It'd be a dream to give away expensive prizes to our members and the wider campus community. Our club is meant to be an escape from the stressful aspects of college life, and we'd love to share that philosophy with everyone on campus by giving them the tools they need to relax from time to time.
We have a wide variety of games that we play. We try to have different games every week that we will be playing. During this semester, we will be offering Smash Bros, Mario Kart, Cuphead, Street Fighter 6, LA Noire, Spider-Man 2, Mario Wonder, Sonic Superstars, and more! We also take suggestions from members on what they would like to play.