Staycation: An Alternative Spring Break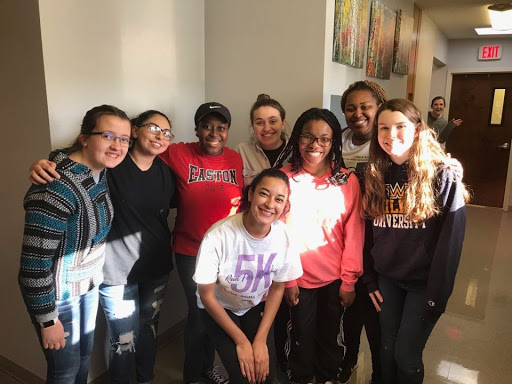 When you think of college students on spring break, you probably picture them frolicking somewhere warm like Florida or city-hopping their way around Europe.
Moravian offers such trips; however, they also offer what they call Staycation, a week-long program that focuses on community service. The Career and Civic Engagement Center offers this option, and they put a ton of effort into planning and executing it.
Staycation costs students $100, which covers your food, transportation, and any other activities throughout the week. About ten students sign up, so the group is nice and small. You stay in your dorm (hence, Staycation), but you actually travel quite a bit. This year's Staycationers — I was among them –went to Philadelphia and Washington D.C., as well as a few local places.
Although the snow canceled our original plans for the first day (New York), we still had a great time decorating journals for young campers and creating memory books for patients with Alzheimer's or dementia in the HUB.
On day two, we went to Flint Hill Farm in Coopersburg and had the opportunity to play with and hold the newborn goats. We cleaned up cobwebs to prepare the farm for its inspection, gathered eggs, and tried some fresh smoothies. One stubborn goat kicked the gate open to the pen I was cleaning, and I would have lost half a dozen of them if the farm's German Shepherd hadn't come to my rescue. We also went to Sixth Street Shelter in Allentown that afternoon and cleaned and decorated apartments that families were moving into.
Day three was Washington D.C., and we left bright and early at 7:30 a.m. That morning and afternoon we painted one of the hallways in My Sister's Place, a shelter in downtown D.C. for women and children escaping domestic violence. In the evening, our group split in half, each going to another shelter. My group volunteered at Community of Hope, which is a non-profit looking to provide opportunities to low-income families in the nation's capital, and threw a party for the kids staying there. We ate snacks, listened to music, and made crafts.
Unfortunately, I was sick on the fourth day, but the group helped with a Habitat for Humanity build in Allentown.
Finally, we went to Philly in the morning on day five. We visited a Kencrest preschool location and played with the kids. The program operates through the Philadelphia public school system and is one of the highest quality preschools in the area. That afternoon we traveled back to Bethlehem to paint a mural at Lincoln Elementary School, and we finished our week with a celebratory dinner in the HUB.
Although volunteering may not sound like a particularly exciting way to spend spring break, this was my second year participating in Staycation, and I plan on signing up again next year. It's tiring and hard work, but it's also a lot of fun and very rewarding.
Each location I visited was incredible, and I highly recommend getting involved at any one of them. The staff are so grateful for the help, and you get a chance to see the wonderful work people do for our community as a lifelong career.
Even if you are unable to commit to a week, visit the linked websites to the listed locations above if you are interested in getting involved. All these organizations could all use and would appreciate your time/donations.
Leave a Comment