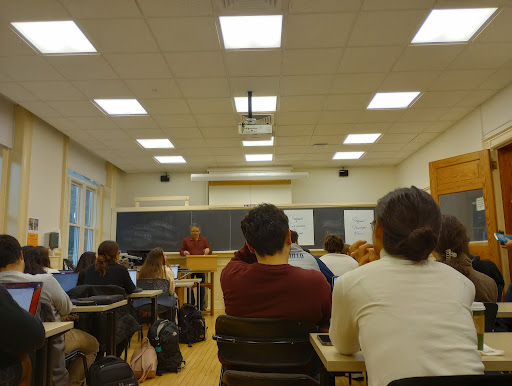 On Oct. 17, Dr. Khristina Haddad, department chair of the Political Science Department, invited students and staff to a "Crisis In Israel and Gaza" discussion panel, held in Comenius 105. She also invited Dr. Mustafa Kirisci, Professor Faramaz Farbod, and Dr. Jason Radine to engage in a critical discussion covering the Oct. 7th Hamas attack on Israel and the historical build-up of the 75-year Arab-Israeli crisis. 
Dr. Kirisci, adjunct instructor of political science, delineated the six-month tension leading to the attack. He specifically cited the Israeli-occupied West Bank, a territory bordering Jordan and the Dead Sea, and, in light of the attack, a respawned discussion of the Abraham Accords in 2020, a series of agreements between Israel and the United Arab Emirates meant to ease Israeli-Palestinian conflict. 
For context, Hamas, an extremist militant group and a faction of the Islamic Resistance Movement, has dominated the Gaza Strip, a coastal Palestinian territory by the Mediterranean Sea. By 2006, they conquered the Gaza Strip, defeating the social democratic Fatah in a Palestinian election. Israeli-Hamas tensions in the 21st century have led to continuous massacres, from Hamas attacks on Israel to Israeli invasions of Palestinian refugee camps in the West Bank.
Leading up to their Oct. 7 attack, Hamas began using tactics such as drone strikes to disable Israel's cellular communication systems. The motives behind the attack included the dispute between Israeli forces and Palestinian worshippers over the sacred Al-Aqsa Mosque and restrictions that Israel forced on the Gaza Palestinians.
The United States reacted to the attack by sending warships to the Mediterranean, providing approximately $105 billion in aid to Israel and an additional $100 million to aid Palestinian refugees in Gaza and the West Bank. President Biden also agreed to visit Israel. One of his main concerns was to make sure Iran did not involve itself in the crisis.
Professor Farbod, adjunct instructor of political science, viewed the crisis through a humanitarian lens, first by explaining the Al Ahli Arab Hospital bombing in Gaza before elaborating on the suppression of Palestinians by Israeli government officials, including Israel's Minister of Defense Yoav Gallant.
He cited Jewish writers like Judith Butler, who speaks of  the value of Palestinian lives and questions the corrupt moral reasoning for the sake of "ethical understanding." Additionally, Farbod expanded on the big-picture problems, such as racism against Palestinians, military occupation, "rightlessness," and apartheid. 
Farbod described a "settler colonial enterprise" at the heart of Israel's ideology. He explained ethnic cleansing, a systematic removal to drive away an ethnic population, in relation to the oppressed Gaza Palestinian populations. For instance, Yoav Gallant, Farbod said, wished to impose a "complete siege on Gaza" where "everything will be closed." 
According to Farbod, a liberated Palestine and a Zionist Israel cannot coexist. Moreover, he advised students to think dialectically about Hamas's tactics and forms of resistance when condemning their actions. Ultimately, he offered the following solutions: acknowledging humanity for all, denoting violence against civilians as uncompromisable, and addressing historical contexts and root causes for systemic crises. 
Dr. Radine, professor of biblical and Jewish studies, explained the religious motivations and peace process leading up to the present day. He cited Hamas' motivation for the Oct. 7 attack to be Jewish encroachments on the Temple Mount, where a Jewish temple stood 2,000 years ago. 
According to Dr. Radine, the Zionist movement in 1947, which is based on ancient Hebrew Bible scriptures and attached to a divine homeland or return to Zion, suggested a two-state solution that was unsuccessful but was genuine enough to have been plausible. The two-state solution sought to create a state for Jewish people without displacing others.
In 2000, the hopes for peace ended with the Palestine Liberation Organization (PLO) and its Intifada, Radine said. Moreover, the subsequent Hamas threats, starting from the 1996 suicide bombings, scuttled the peace process. 
Dr. Radine identified Hamas as a terrorist cult that uses Gaza residents as pawns and that the Israeli military response on Oct. 7 came from the Zionist assertion that eliminating Israel is not a way forward. Radine said that while a two-state solution can't happen now, he believes the process of creating it cannot be completely discarded. Radine ended by talking about student activism during the crisis and advising students to look before they leap when engaging in discussions. He brought up the uproar against the UPenn Palestine Writes conference and reinforced the value of free and open speech.